Maryland Software Co. Cashes in on Cuba Contracts
Maryland Software Co. Cashes in on Cuba Contracts
HAVANA TIMES – The US government has paid Washington Software company $6,691,899.32 since July 2011. The Maryland company designed Piramideo, a social network made for mobile phone users in Cuba.
Piramideo's website states: "Piramideo is sponsored by the U.S. Bureau of Transmissions to offer Cubans a social media without thematic restrictions."
What in the heck is the Bureau of Transmissions? At best, it's an awful translation of the Broadcasting Board of Governors, or BBG. At worst, it's meant to deceive users of Piramideo.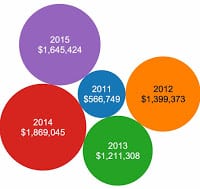 I wonder why American taxpayers must continue to finance this operation? Aren't there any existing, free social networks that could do the job?
The BBG, which oversees the Office of Cuba Broadcasting, hired Washington Software to send email and text messages to Cuba.
The BBG's latest contribution to Washington Software was a $102,108 contract signed on Sept. 12, 2015.
The company, founded in 1998, is located at 20410 Century Blvd Suite 220 in Germantown, Maryland.